As it's been a while since I've posted, here's an update with a bonus.
Continuing in the legacy of the Digi*Cons—a set of smilies designed and created by BebiBulma :bebi: and I :digitalchet: for the Wincustomize :winky: website—I present to you a new set based on some of the characters of the fantastic Star Wars series.
Making their new Digi*Conic debuts are:
the infamous Darth Vader :vader: ;
the loveable R2-D2 :r2d2: ;
along with his comedic side-kick C3-P0 :c3p0: ;
the ancient and wise Yoda :yoda: ;
the fierce Chewbacca :chewie: ;
and a lone Stormtrooper :storm:
More may follow in the future… as time allows, but in the meantime these are available for use in the comments below and downloadable for your sites as a pack here.
Update
I've recently managed to update this package with some additional character icons. Check them out!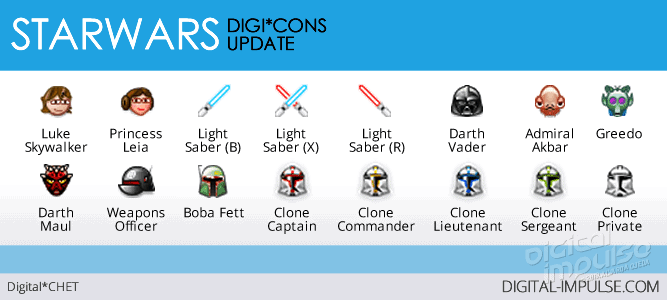 The additions are as follows:
the evil Darth Maul :maul: ;
the contemptible Greedo :greedo: ;
the bounty hunter, Boba Fett :bobafett: ;
and several ranks of Clone Troopers :cprivate: :csergeant: :clieutenant: :ccaptain: :ccommander: